Dragon CRS-3.
Apr 18, 2014 · Comments
SpaceX
Видео сегодняшнего запуска Dragon CRS-3 верхом на Falcon 9:
Двигатели первой ступени при запуске обдали ракету грязью из канавы. Во Флориде как раз с утра дождик прошел: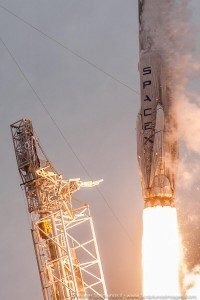 Немытый Falcon 9.
Первая ступень успешно приводнилась, насколько можно судить по предварительным данным.
Orbit insertion and Dragon deploy all good. Falcon reentry burn also good. Waiting for landing data from tracking plane.

Data upload from tracking plane shows landing in Atlantic was good! Several boats enroute through heavy seas.

Flight computers continued transmitting for 8 seconds after reaching the water. Stopped when booster went horizontal.